Remember the milk for Irish phones….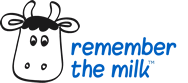 I think this is pretty cool; you can connect Remember The Milk(RTM) and Twitter to your phone so that you can use Twitter or a text to send tasks to RTM. And then RTM will send you a text and an email reminding you to do things at a certain time.
I've been using remember the milk for a while now. I really needed a to-do list / task reminder that could really grab my attention and is also very easy to update. A lot of task apps that sit on my desktop just become invisible to me very quickly. As do gmail tasks. But the fact that RTM can send you texts really grabbed my attention and comes highly recommended but only when its hooked up with your phone is it a really powerful task reminder.
But it mostly only supports mobile networks in the US and other countries – but not Ireland. I've been checking back every now and then to see if they support Irish mobiles yet and they still don't. But there's a great way around it;
First you follow a special Twitter account http://twitter.com/rtm so that task reminders are sent to your Twitter account.
Then you set up Twitter so that it sends you texts when you get a new tweet. Lots of people do that anyway but if you're like me and use the mobile version of Twitter on your phone then, like me, you've probably never bothered getting Twitter as texts. So I just turned off phone updates from everyone I follow except @rtm.
So now I can send @rtm a direct message like "take the bread out of the oven at 2:45pm" (I actually left bread in the oven for 2 hours longer than I should have yesterday. Dough!) And at 2:45 I'll get a text and an email telling me to take the bread out of the oven. No more burnt bread! And I could have set that task up quickly from tweetdeck, from a text, or from the RTM site. And that's all with the free version of RTM.
There's more on twitter and rtm here: http://www.rememberthemilk.com/services/twitter/ . I gotta go RTM just sent me a text reminding me to record some of the Shane Meadows season on Film4.